Moon Dance
All devices Wireless charger
(No reviews)
Tarn Ellis Chalk, based in England
Lives a nomadic lifestyle creating art all around the world
Hopes to uplift and inspired to live a more adventurous life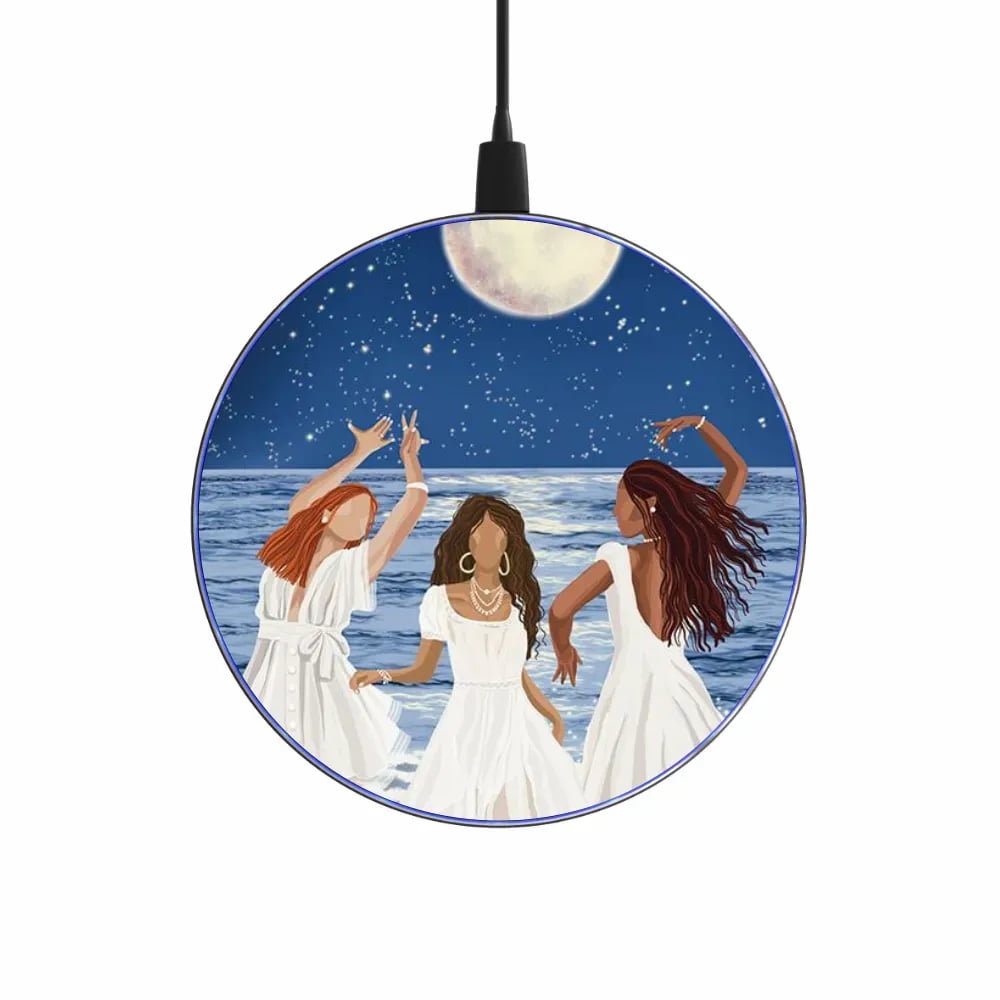 Description

Pump up your game with the most beautiful custom wireless chargers out there. Inkit Wireless Charger does not just charge your phone, but also is a piece of art that will lift your spirits every time you want to charge your phone. Beautiful and unique design is shining under a glass surface giving your phone the best possible care. As always, the designs are created by real artists - with love.

Powerful charging experience

The Charger itself is a powerful 10W charger, which means that it's twice as powerful and fast as your regular wireless charger. The frame is brushed aluminum with a stylish black finish. When you plug in your charger, it lights up a gentle blue LED and fades away when you start charging the phone.

Details

Powerful 10W wireless charger
Black aluminum frame, rubber pads on bottom
Top plate made of glass
Beautiful Inkit design
Diameter 9,8cm, thickness 0,65cm
Contains 1m USB-C cable

Reviews (0)
Free shipping on all orders!
Over 60 000+ happy customers!
100% satisfaction quarantee
Embrace your spiritual journey - Tarn Ellis Art
This collection goes out to all the women out there!
Together with the talented British artist Tarn Ellis Chalk, we wanted to capture the essence of being a woman and highlight through art that women should be allowed to be who they are. So join us on a journey to find your true self with the help of these beautiful and empowering designs.
Be wild. Be free. Be a Woman.
Want to know more about the case?
Our Style Case is designed to be slim yet protective, and the cherry on top is the beautiful artwork, which we print to order. That's all you need. ♥︎
Art is the new protection
Our cases are made out of sturdy & flexible materials that are soft to touch. The case is then finished with a high quality printed hard backplate - which we print to order at our own studio.
The print itself is always created by an inspiring artist.
Protection from all angles
Our cases are always protective. The elastic rubber-coated edges will protect your phone from drops and shocks.
The edges have a groove design which gives you a great grip from the case - which means fewer drops!
Supports wireless charging
Our cases are always compatible with all QI chargers. Just place and charge.
Of course the coolest option is to buy our Wireless Charger, since you can get it in the same print!